25th July, 2023
Luxury Glamping at Ormesby Manor
Nestled within the enchanting grounds of Ormesby Manor just inside The Norfolk Broads National Park, our luxury shepherd huts offer the perfect blend of rustic charm and modern comfort for a truly memorable glamping getaway. Our shepherd huts allow you to immerse yourself in the beauty of the great outdoors while enjoying views across farmlands from the hot tub. Enjoy the luxuries of boutique accommodation and our signature breakfast delivered to your door.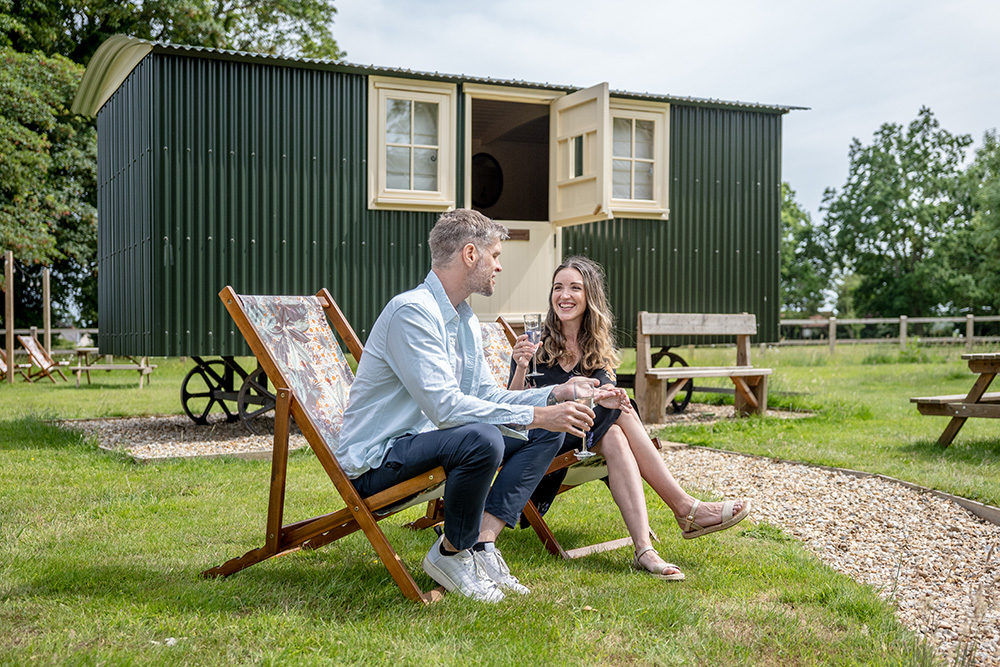 Norfolk, with its idyllic countryside and stunning coastlines, is a prime destination for nature lovers. From the peaceful Broads to the sweeping beaches and dramatic cliffs along the coast, this region offers a diverse range of outdoor experiences.
Introducing Ormesby Manor's Luxury Shepherd Huts
Nestled among the picturesque landscapes of Norfolk, Ormesby Manor invites you to experience the magic of glamping in their luxurious Shepherd Huts. These beautifully crafted huts are designed to provide a cozy and intimate retreat with delicious breakfast each morning, allowing you to unwind and connect with nature without compromising on comfort.
Key Features of Ormesby Manor's Shepherd Huts
Charming Accommodation: Each Shepherd Hut is thoughtfully decorated, the Gamekeeper, Gardener and Beekeeper are equipped with luxury bedding, comfortable seating, and en-suite facilities. The warm and inviting interior welcomes you after a day of exploration.
Stunning Views: Wake up to the beauty of Norfolk's countryside right outside your window. Ormesby Manor's Shepherd Huts are strategically positioned to offer breathtaking views of the estate's surroundings.
Privacy and Tranquility: Enjoy a sense of seclusion and peace as you relax in the tranquility of nature. Ormesby Manor's Shepherd Huts offer a private escape from the hustle and bustle of everyday life.
Modern Amenities: While surrounded by nature, you won't have to compromise on modern amenities. The luxury Shepherds Huts at Ormesby Manor are centrally heated with en-suites fitted with private shower, basin and toilet. Kitchen areas include a small fridge, microwave, kettle and hot and cold drinks. Smart TVs and high speed WiFi and all the essentials for a comfortable stay, including hot tub and fire pit.
Close To: Although you will experience peace and tranquilly whilst staying in one of our 3 Shepherds Huts, guests in the Gamekeeper, Gardener and Beekeeper are within easy reach of highly recommended local restaurants, farm shops, tea rooms and endless activities on the Norfolk Broads and surrounding coastal villages.
Things to Do During Your Shepherd Hut Holiday
Exploring Norfolk's Nature Reserves: Take advantage of Norfolk's many nature reserves, such as Strumpshaw Fen and Hickling Broad, to observe local wildlife and diverse ecosystems.
Relaxing at the Beach: Norfolk's coastline boasts numerous Blue Flag beaches. Spend a day relaxing on the sandy shores, paddling in the North Sea, or exploring the famous beach huts.
Canoeing on the Broads: Hire a canoe or join a guided boat tour to explore the Norfolk Broads, a network of navigable rivers and lakes surrounded by picturesque landscapes.
Visiting Historic Sites: Norfolk is rich in history. Visit Norwich Cathedral, Norwich Castle, and Blickling Hall to immerse yourself in the region's heritage.
Book Your Shepherd Hut Getaway Today
Escape the ordinary and embark on a glamping adventure at Ormesby Manor. Whether you're seeking a romantic retreat or a solo nature getaway, our charming Shepherd Huts promise an unforgettable experience. Book your stay today and immerse yourself in the tranquility and beauty that Norfolk has to offer.
Have you considered booking all 3 Shepherds Huts, The Gamekeeper, Gardener or Beekeeper, and extending your stay with friends or family?
Do get in touch with us for our preferential rates. All of our direct bookings include Ormesby Manors Signature Breakfast delivered to your door each morning.
Contact Ormesby Manor to reserve your Shepherds Hut holiday or short break, and start planning a truly memorable outdoor escape.